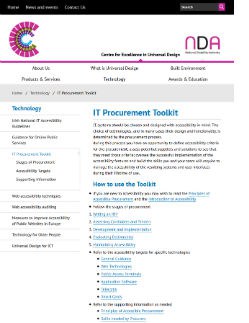 Language: English
Publisher: The Centre for Excellence in Universal Design (National Disability Authority)
Pages: Medium
Download
This Toolkit was developed to help procurement officials in the Republic of Ireland to implement accessibility requirements relating to public procurement policy. The site is undated, but appears to have been last updated in 2010, and as such it pre-dates the European Standard EN 301 549 and the associated Toolkit for implementation of the European Standard (both linked to below).
Developed by the Irish National Disability Authority (NDA), the IT Procurement Toolkit is a subset of a larger collection of guidance on universal design of various types of technology, as well as the design of the built environment. There are several sections of the Procurement Toolkit, covering the main stages of procurement (writing a request for tenders, assessing tenders, evaluating deliverables, and maintaining accessibility). For each stage, the toolkit provides information about how accessibility fits in to the process. There is also an introductory 'How to use the toolkit' sub-section.
This resource is useful for those involved with public procurement in Ireland. However, for those looking for information applicable to Europe (and beyond), as well as those in Ireland needing more recent information relating to accessibility and procurement, we suggest that the EU Standards resources should be consulted first.