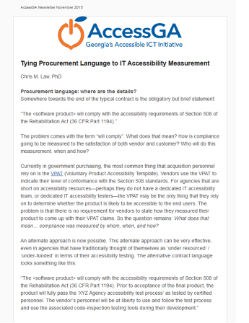 Date: November 2015
Language: English
Publisher: AccessGA
Pages: 3 + 60mins
Download
This short article links to an archived webinar on the topic of tying procurement language to testing methodologies. It is intended for those involved with Information and Communication Technology (ICT) procurement in government or industry, and as a resource that can be used by those working in the accessibility testing field.
This resource was produced for AccessGA, the Accessible ICT initiative for the US State of Georgia, run by Georgia Tech University.
This resource introduces the concept of having a shared understanding and shared procurement and testing language between the various stakeholders on either side of the procurement process. Recent testing methodologies have allowed ICT accessibility testing to become part of the quality control process throughout development, and the article and webinar provide links to related resources.