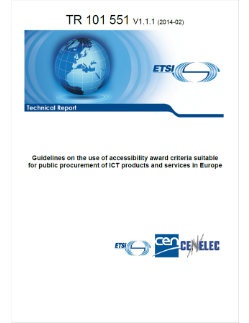 Date: February 2014
Language: English
Publisher: CEN / CENELEC / ETSI
Pages: 19
Download
This Technical Report (TR) provides many of the technical underpinnings on which the interactive Toolkit content (linked to in this subsection of the G3ict Accessible Procurement Portal) is based. This TR was authored jointly by the agencies that produced the European Standard, namely the European Committee for Standardization (CEN), the European Committee for Electrotechnical Standardization.(CENELEC), and the European Telecommunications Standards Institute (ETSI).
This TR can be used as a linear read-through of similar guidance to that found in the Toolkit. This TR can also be used as a reference to the various clauses of the European Standard's related directives, references, and subsections.
The interactive Toolkit should be consulted first. This TR can support the activities of procurement personnel who are already knowledgeable about the Standard, and who are already well versed in the concepts and resources contained in the Toolkit(s) and other resources available elsewhere in this G3ict Accessible Procurement Portal.