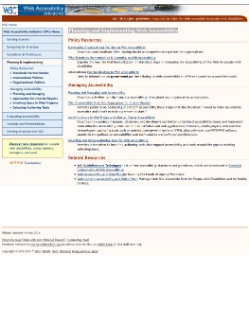 Language: English
Publisher: W3C-WAI
Pages: Large
Download
The concept of web accessibility is almost as old as the creation of the web itself. In the 1990s and into the early 2000s, the focus was on technical requirements and programming methods. From about the mid 2000s, there was a recognized need for information specifically relating to the planning and implementation of accessibility programs in organizations (government agencies, companies, higher education institutions, etc.). This web resource provides that needed guidance.
This website provides advice and guidance on making adjustments to current policy approaches to include accessibility considerations, as well as setting up and managing accessibility initiatives. The site also provides links to related resources, such as how to design for inclusion and how to test (evaluate) for accessibility.
This collection is produced by the World Wide Web Consortium Web Accessibility Initiative (W3C-WAI) in support of the implementation of the Web Content Accessibility Guidelines (WCAG) 2.0.