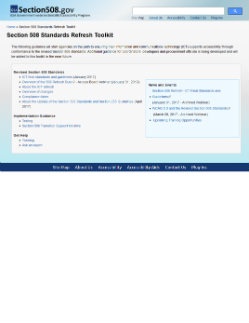 Date: January 2017
Language: English
Publisher: GSA
Pages: Large
Download
2017 saw the completion of the process of updating the 2001 US Federal procurement standards. The 'refresh' process took just under a decade. This Toolkit provides information on the refresh process, why changes were necessary, and an overview of those changes. Also provided are links to government resources on testing, and on making a transition to implement the revised rules.
The Section 508 Information and Communication Technology (ICT) Standards contain the technical requirements for technologies, as required to meet the rules and regulations of the Rehabilitation Act. This Toolkit provides federal guidance from the government procurement agency responsible for guiding the implementation of Section 508, the General Services Administration (GSA).
This Toolkit is intended for use by federal procurement and other technical staff. The Toolkit is also useful for state, city and local governments that have voluntarily adopted Section 508. The toolkit can also provide useful background information and resource links for ICT vendors who supply government customers.